CONTACT US
Fax
+86 523-82858999/84995099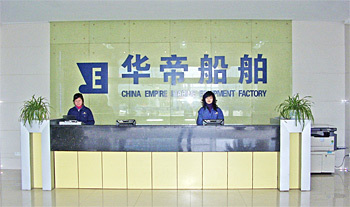 Jiangsu Huadi Marine Engineering Equipment Manufacturing Co., Ltd. (Huadi Ship Equipment Factory) was founded in 2002. The company is located in Jingjiang City, Jiangsu Province, 180 kilometers away from Shanghai, adjacent to the Jiangyin Yangtze River Bridge in the south, and adjacent to the Shanghai-Nanjing Railway and Shanghai-Nanjing Expressway. The transportation is very convenient.
The company covers an area of 48000 square meters, including a construction area of 33000 square meters. The enterprise has production departments such as mechanical processing, cold work welding, and assembly. The company mainly designs and produces various types of ship rudder systems (flap rudder, fishtail rudder, twist rudder, and other high lift rudder), shafting, marine engineering equipment, stern columns, stern rollers, deflectors, ship deck machinery and its supporting components, outfitting parts, and metal welded structural parts. Currently, it is a qualified supplier of CSSC, CSIC, COSCO, CNOOC, ABB, Fincantini, Maersk, etc. The company has a professional expert technical team dedicated to the development and design of energy-saving products for ships. It has produced products for oil tankers/bulk carriers/container ships/ocean engineering ships of 400000, 317000, 176000, 156000, 80300, 79600, 76000, 57300, and 57000 tons, in addition to complying with GB and JIS standards and classification societies such as LR, DNV, GL, ABS, NK, BV, RINA, KR, RS, and CCS, We can also develop, design, and manufacture various non-standard products according to customer needs, and undertake various mechanical processing products and various steel structural components. Since its establishment, the company has produced nearly 1000 sets of ship rudder systems (including all components such as rudder blades, rudder bearings, and rudder stock), shafting, stern columns, stern rollers, and deflectors, as well as ship energy-saving products (flap rudder, fish tail rudder, wake compensation conduit, front pre rotating guide wheel, vortex fin, and sail aid). It is a professional company specializing in ship rudder systems, shafting, and overall solutions for ship energy-saving in China.
In recent years, our company has cooperated with China Ocean University to develop a deep-sea probe delivery device, which is a special deck equipment for the delivery and recovery of deep-sea survey instruments. It has played an important role in deep-sea sampling, CTD survey, and other work. The company has cooperated with German MMO company to integrate resources in the design and production of twisted rudder, providing customers with more professional energy-saving products for ships. The energy-saving sail that the company collaborated with the 702 Institute of China Shipbuilding Heavy Industry was first applied to a real ship in December 2014. Under the condition of meeting the requirements for ship navigation performance, it achieved the design goal of saving 5% - 10% energy. The completion of this project achieved a breakthrough in the key technology of sail assistance, and took an important step towards the development, engineering application, and industrialization of wind energy assisted green ship technology.
The company has complete processing equipment, with over 50 sets of lathes, boring machines, planers, grinders, milling machines of various sizes, including those capable of processing Φ 2.5M × 14M/63T CNC heavy duty lathe and Φ two point five × A 10 meter heavy-duty floor type boring and milling machine with a 120T large gantry crane.
The company has a sound management mechanism and a sound material mechanical properties and chemical analysis and testing system. It has obtained ISO9001:2015, ISO14001:2015, OHSAS18001:2007 quality, environment, occupational health and safety management system certificates, factory certification certificates from DNV-GL, BV, LR classification societies, and product certificates issued by CCS, ABS, BV, DNV-GL, KR, LR, NK, RINA, and other classification societies. The company has been awarded honorary titles such as "AAA Class Credit Enterprise", "Jingjiang City Industrial Top 100 Enterprise", "Jingjiang City Integrity Enterprise", "Taizhou City Contract Abiding Enterprise", and "Jiangsu Province Quality Integrity Dual Guarantee Demonstration Unit" for consecutive years. Guided by excellent shipbuilding equipment manufacturing technology, the company has achieved key technological breakthroughs and industrial upgrading through original innovation, integrated innovation, and introduction, digestion, absorption, and re innovation. With a strong technical research and development team, it has successively obtained over 30 high-tech products and various patent certificates in Jiangsu Province, and has been recognized as a high-tech enterprise in Jiangsu Province.
At present, the company's products are continuously exported to Europe, Southeast Asia, South America, Africa and other countries and regions, and the products produced have received unanimous praise from foreign customers. We will warmly welcome friends from home and abroad to visit and guide us with excellent quality and service, and create a better future together!